Honua Kai – Information and Amenities
Resort Map
The following is a map of the ground floor units of the resort. Using the tower and last two numbers of the units you can see their location.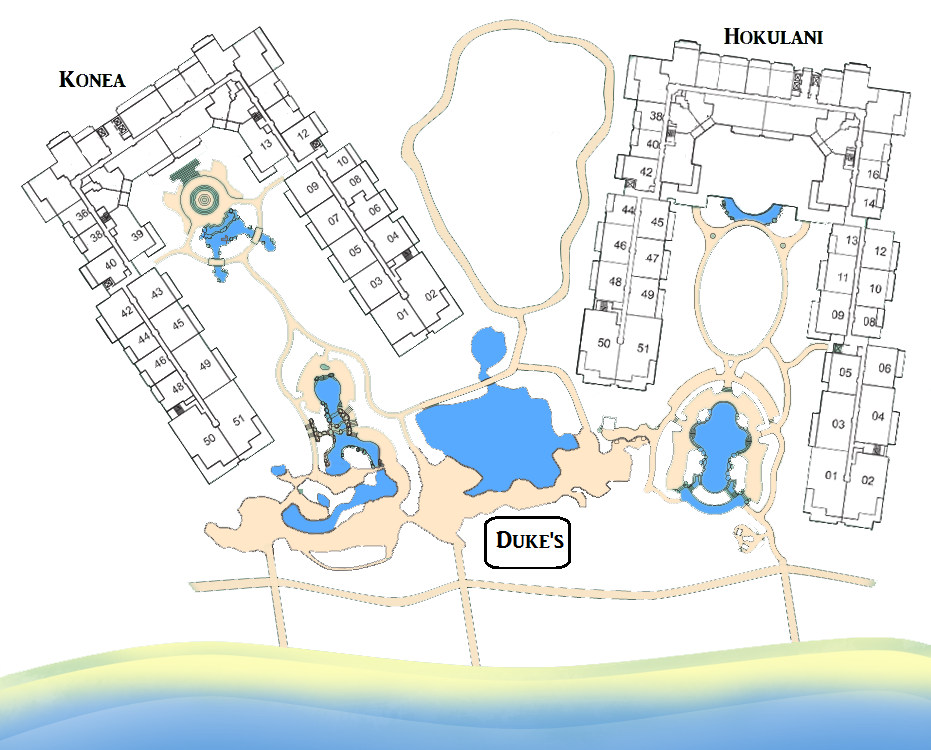 Pools
Honua Kai has three pools and four hot tubs located throughout the resort: The family Pool featuring water falls, a slide and a shallow children's sand pool / splash area. The recently renovated infinity-edge pool features the largest swimming area of the 3 which is great for swimming laps, and on the ocean side features a shallow water area where kids can play safely. The Konea Pool shaped in the form of a river with a connected upper pool for adults provides a more quiet relaxing experience. Pool hours are 6:00 AM – 10:00 PM daily.
BBQ's
Honua Kai features three BBQ patios located near the three pools with a view of the ocean. In each unit we have BBQ equipment as well as trays. The BBQ patios include multiple Viking gas BBQ's and dining tables and chairs. Alcohol is OK to bring to the BBQ areas.
Fitness Center
The Fitness Center is located in the Konea tower. It features high-end machines including treadmills, bikes, ellipticals, and free weights. Outdoor fitness classes are also available: http://passionofmovement.com/honua-kai/
Ho'ola Spa
Ho'ola Spa is a reflection of Maui and the geographic wonders of the tropical Hawaiian Islands, offering some of the ancient therapies for the ultimate relaxation experience. With our signature treatments and exclusive Maui day spa packages, we'll show you what it truly means to rejuvenate and unwind, away from the hustle and bustle of the city. For more information see: http://hoolaspamaui.com
Restaurants
Honua Kai features 3 food locations:
1) Famous Dukes Restaurant which is open for breakfast, lunch and dinner. Breakfast is served from 7:30 AM – 11:00 AM. Lunch and dinner are served between 11 AM – 9:30 PM. The restaurant has live entertainment often and serves fresh, local ingredients with a Hawaiian influence. For a full menu please see: http://www.dukesmaui.com
2) Aina Gourmet Market. Aina Gourmet Market proudly serves and sells only 100% Maui Coffee. Breakfast, lunch, dinner, and snacks are served throughout the day, as well as a fresh juice and smoothie bar. Aina's wine selection is full of organic and biodynamic choices to pair with any dish. Aina is a great place to find local and organic produce for sale and included in the extensive deli menu. The market is filled with local and gourmet foods and gift items, also all the fixings for that perfect custom gift basket.
3) Whalers General Store. Recently opened in the main lobby of Konea tower, and is receiving great reviews from both owners and guests alike. Whalers General Store offers a variety of merchandise, including beach products, cleaning materials, gifts, cold beverages, light prepared salads and sandwiches, and even morning muffins and coffee. If you're light on reading material, simply stop by and pick up the latest magazine or bestseller. Open daily from 6:30am to 11:00pm, Whalers General Store is a welcome addition to Honua Kai's impressive array of amenities, and a great new shopping option.
Maintenance Updates
Updated on Nov 3, 2017: All pools have re-opened.
Per HKCA on Sept 26, 2017: Luana Development Partners LP has acquired the rights to develop the remaining 72 townhome units known as the Luana enclave. Subject to County approvals, construction is anticipated to commence in early 2018, perhaps as early as January. This transaction was only recently finalized. The developer will be providing additional information in the coming weeks. At this time, Owner is unsure if and how this will impact the Condo and the exact dates / timelines of each of the 72 townhomes planned. This work will be occurring on the empty grass field lot on the east (non-ocean) side of Konea / Hokulani.
---